We who live in Heart of Lapland are to a great extent naturally sustainable thanks to our Arctic lifestyle with its traditions and culture. Many of us hunt, fish, pick berries and mushrooms, keep our own animals and grow our own vegetables – or buy from the neighbor.
We recycle all waste and as kids, we learned not to litter in nature. The streams of water in our forests are clean and we want our time spent in nature to leave as few footprints as possible so the next person who visits the place can get the same positive experience.
Nature is often our living room and for many, nature is also a workplace to protect.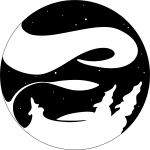 Environmentally friendly buildings
Clean water and free flowing rivers
Northern lights, starry skies, the midnight sun, and other sky phenomenons are a part of our Arctic lifestyle. We like to look up and watch the sky when we walk our dogs or are out in nature. That is why we work to protect dark night skies, something that is becoming rarer around the globe. Most of our accommodation providers as well as walking trails in the municipalities got special lights or a system to decrease light pollution. It makes it easier for both visitors and locals to enjoy the show.
Houses built out of wood are the most common living situation for us and we heat our homes with air-, earth- or geothermal heating, or municipal district heating. The electricity is often green, produced by wind or solar power, which also runs our Swedish trains. The charter planes that arrive in our area are using biofuel and for you who want to drive an electric car, there are charging stations in each municipality. You can also take the bike and cycle around our entire destination. During the winter, many of us love to drive snowmobiles. The most common engine is a four-stroke engine since they are more fuel-efficient and pollute less.
We shop locally and preferably locally produced and organic ingredients. All around Heart of Lapland you can find farm shops, which sell vegetables and fresh herbs. There are also local fish- and meat stores. The restaurants, hotels, and activities that serve food are using these local ingredients, often bought directly from the farmer without any middleman.
Locally produced ingredients

Locally produced handicraft
Wild animals in the forest
Flea markets, second-hand stores, and local Facebook groups for second-hand goods are things we in Heart of Lapland love. We reused things before it got trendy. We are also glad that small-scale, local clothing companies that don't use toxins have popped up in and around our destination. We rarely use disposable items, instead, we often buy locally produced handicrafts that last a lifetime – our wooden cups are a good example.
We like to bring these wooden cups to activities year-round. Many of our activities leave a very small footprint; for example fishing, hiking, cycling, paddling, berry- and mushroom picking, hunting, viewing the northern lights, photography, dog sled tours, reindeer sleds, cross-country skiing, and snowshoe walks. The air here is clean and we want to keep it that way. When we bring visitors to activities in nature, we share our knowledge about biodiversity and what rules we are required to follow – we who spend time in nature among its habitants. The animals are wild and must be respected – there are no zoos here. The knowledge about wildlife and nature makes us and the visitors better at taking care of them.
We welcome everyone, regardless of religion, gender or ethnicity – HBTQIA+ safe
Historical diversity in a mix of Swedish, Sámi and Finnish
Socially sustainable, fair wages and local economy
Our unique cultural heritage is important to us. We tell our visitors about the people who live in our destination, the ones who used to live here, and what the cultural heritage means. Through these stories, we are contributing to a more open and equal world.
Heart of Lapland is a destination that welcomes everyone, no matter your background, ethnicity, sex, age, disability, or skin color. We are also a safe and open destination for HBTQIA+ and protect the freedom of religion and belief.
The companies within Heart of Lapland are running their businesses as digitally as possible when it comes to bookings and invoices. They are following Swedish law, which regulates working hours and minimum wages. The companies are often family businesses and each guest contributes to the local economy. Everyone working in Sweden has the right to a salary that you can live on. Sweden also has one of the most comprehensive animal-keeping laws in the world and regular controls by government officials are conducted to make sure the animals participating in activities are well kept.
We who live and work in Heart of Lapland are naturally sustainable, but not perfect. We take responsibility and together we can all contribute to a more sustainable world.
Welcome to Heart of Lapland – a more sustainable destination