Cheers for Tjers
We eat breakfast on the porch and watch the river while indulging in freshly baked bread, watermelon and topping it off with some caffeine. It's another sunny day and we say goodbye to Filipsborg, pack our car and head out on E4 towards Överkalix. The highway is less exciting and we decide to take a smaller road and follow Kalix River upstream. It's a great decision. There is barely any traffic, the views are breathtaking with its greenery, cute villages and farms, and the vast river flows on our left-hand side. Here and there the road is right on an edge with steep cliffs and we stop a few times to take in the amazing views. Eventually the back roadcrosses the river and connects with E10 that we continue north on.
We reach Överkalix, a place with just over 1,000 inhabitants, known for their quirky dialect that sounds like its own language. We make a stop for lunch at Tjers Gästgiveri (Tjers Guesthouse), which is surrounded by a green lawn and birch trees. Tjers Gästgiveri is run by Anna-Lisa Andersson, her husband and daughter Frida who is the owner and head brewer at Tjers Brewery*. The family-run company's name Tjers was something Frida Andersson created when she started her brewery. The name is derived from the family estate where they once used to make trolleys. A trolley is called "tjer" in the Överkalix dialect and suitably Tjers is pronounced like "cheers"! We are a little early and take the opportunity to check out the house. The rooms are bathing in natural light and the high ceilings and details tell us that it is from the turn of the century. The interior is eclectic – a mix of Swedish turn of the century-chairs and furniture from the 70s and 80s. The guesthouse got five bedrooms, each with its own color theme and personal touch. The purple bathroom is a must-see!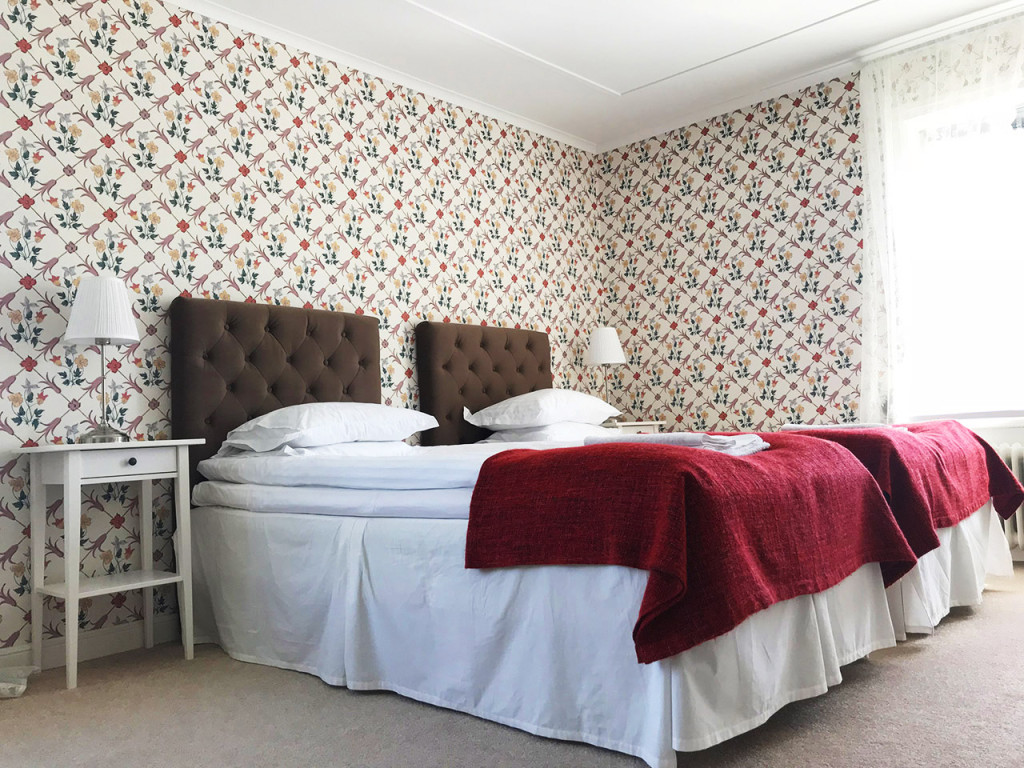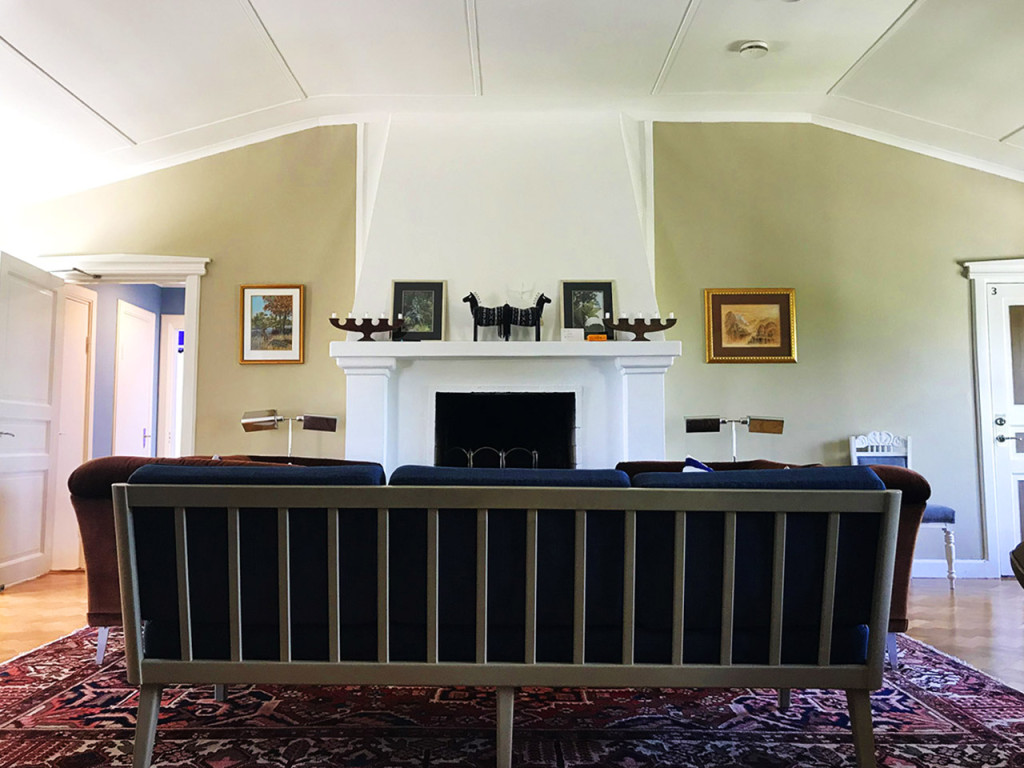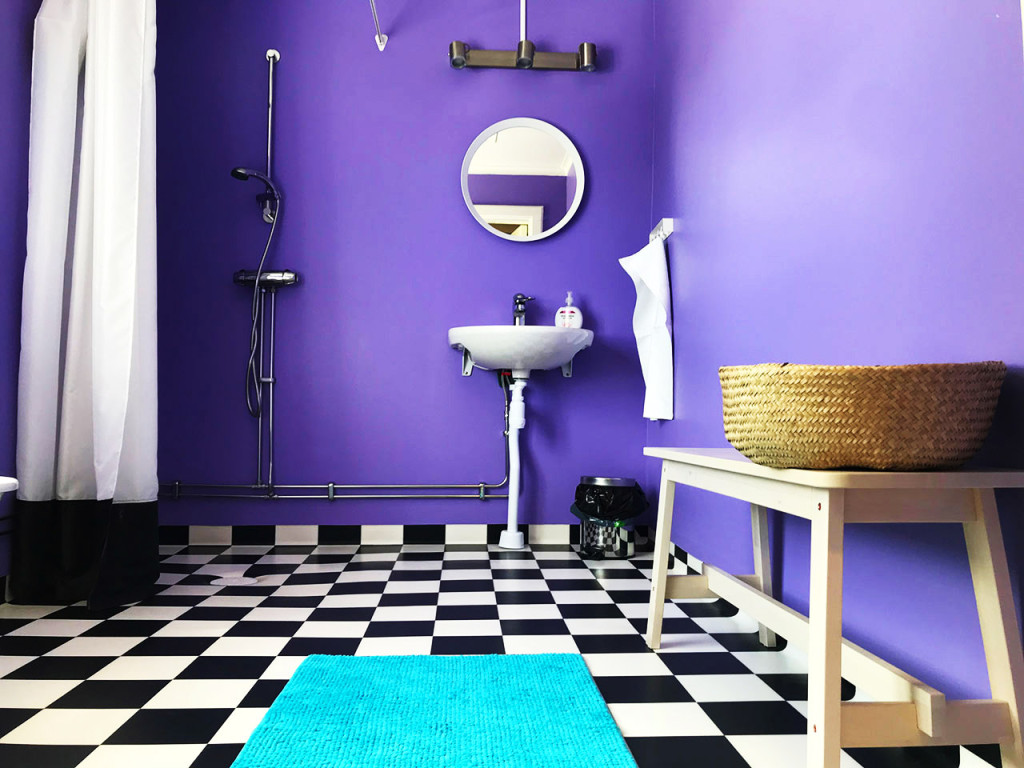 We are served a creamy smoked salmon pasta, cooked to perfection with a side of fresh green salad and homemade blueberry bread. I try some currant juice from Tjers' own brewery and Johan drinks their brown ale – a light beer with lots of flavor. Yum!
A short 10 minute car ride from the guesthouse and we're at Tjers' Brewery, in the small village of Svartbyn. The owner and founder Frida greets us in the door and show us inside. A faint smell of festival lingers in the air. Frida is a very down-to-earth woman, although her passion for the artisanship beams through her when she explains how the process of brewing beer works. She explains that everything is done by hand by her and only one employee, and she started the business on her own – from scratch.
– I have a sommelier degree from Grythyttan (a famous Swedish restaurant university) and worked at a vineyard in Australia for a while after that, but even though I had an interest for wine and food, I wasn't still sure of what I wanted to work with, says Frida. I even helped out at my family's logistics business where I learned a lot of things that are useful for Tjers today. Taking the step and becoming an entrepreneur was pretty natural since my family and siblings always have had small businesses.
We ask her why she decided to make beer instead of wine, and she answers happily:
Well, I want to live in Överkalix, where I can't grow grapes, but I can make beer and Tjers was born!
Frida leaves the beer to be naturally carbonated, like when you make champagne, which basically means waiting a couple of weeks. The bubbles get smaller, the taste fuller and foam fluffier.
We get to see how the bottling is done and say hi to her boyfriend Philip who is manning the labeling-machine for the day, putting labels on their latest release Laudre (which means northern lights in the Överkalix dialect). Each beer is named in the Överkalix dialect and associates to the flavor.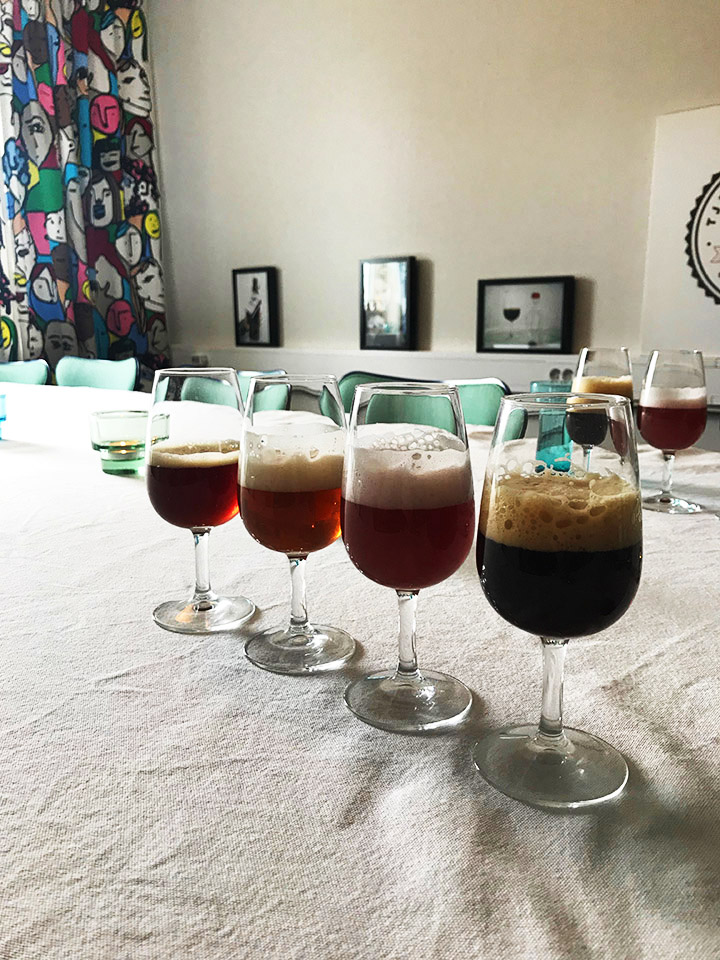 We get to taste four of Tjers' beer, some from her standard selection of volume beer and some that have been made in limited editions. Frida tells us that she uses smaller batches when she experiments with flavors and limited editions. The new beer Laudre is a brown ale, soft and cozy with a rounded taste that suits perfectly a winter evening by the fire with a sparkling aurora outside. Lios (light) is a classic light lager and to quote Frida herself: "like a northern Swede – simple and easy to love". The third beer Möije (mosquito) is a wheat beer that both smells and tastes like summer, and is flavored with ginger and blueberries. It becomes our instant favorite. Last up is a chili beer, a limited edition release in cooperation with the metal band Offensive Ground, which also is the name of the beer. It is a spicy red ale with a real kick!
A forest retreat in a magical light
It is already afternoon when Ulf, one of the owners of Lavas Forest Retreat, picks us up. He drives us deep into the woodlands and points where the forest bird capercailzie usually does its mating dance in the spring. We are dropped off at the end of a curvy forest road on the mountain Lavas with a cooler and we walk the remaining 50 meters. A cabin, a sauna, an outhouse and a forest bathing in a magical light – Lavas Forest Retreat. The view over the woodlands is amazing and not a human for miles. The birds welcome us with happy chirps from the treetops when we enter the cabin, which has a scent of fresh wood – and there is no shortage of wood in the cabin, nothing is made of plastic except the trash bags in biodegradable plastic. The bed linen is made out of ecological cotton, the towels of linen and all glass are repurposed – most of it from local designers and stores.
We make a fire in the fire pit outside the cabin. The sun is warm, the birds are singing and it is a dreamy stillness around us. There is no electricity, spotty cell reception and my phone dies after I photographed the surroundings. I resort to sipping champagne that we found in the cooler while Johan makes souvas – thinly cut, salted and smoked reindeer meat, which he stir-fries in the Murikka over the open fire. We fill hot pita bread with souvas and vegetables, savor saltines and a reindeer cream that we made using a recipe from the cabin. I visit the outhouse with some hesitation. Sure, I enjoy nature and the wilderness, but a comfort like a WC is preferable. This outhouse is to my content new, fresh and odor-free. When the evening comes, we heat up the sauna and play cards and yatzy until we are sleepy.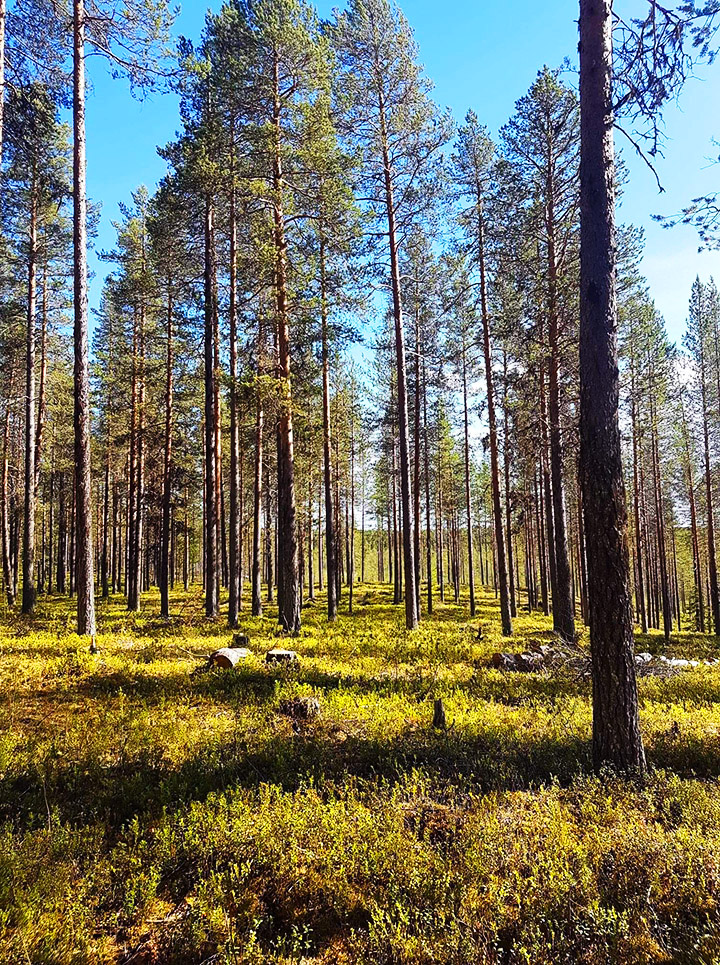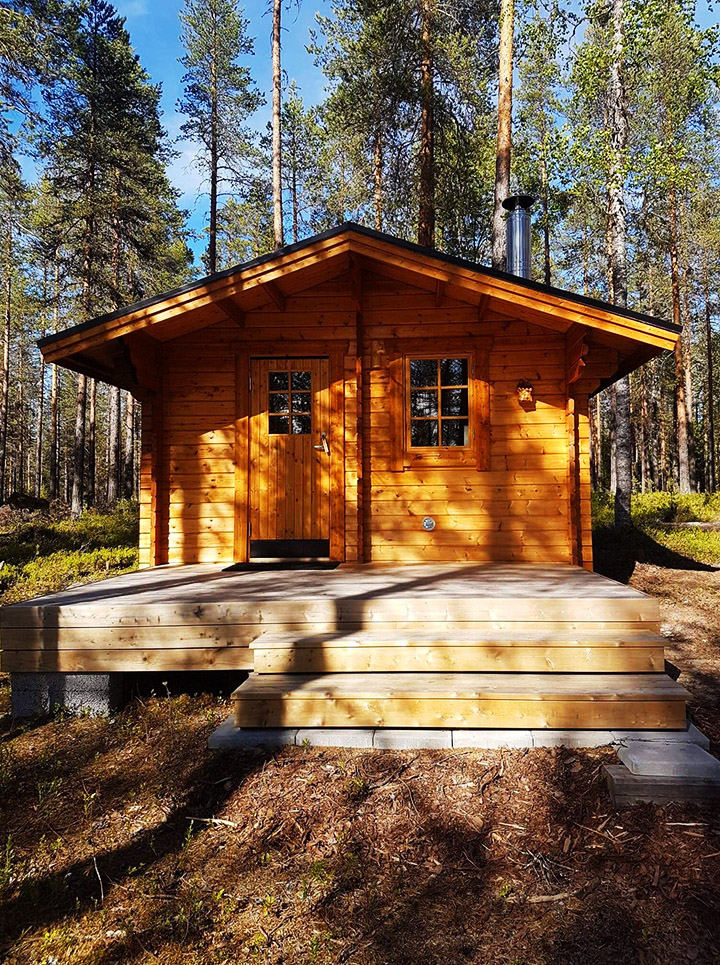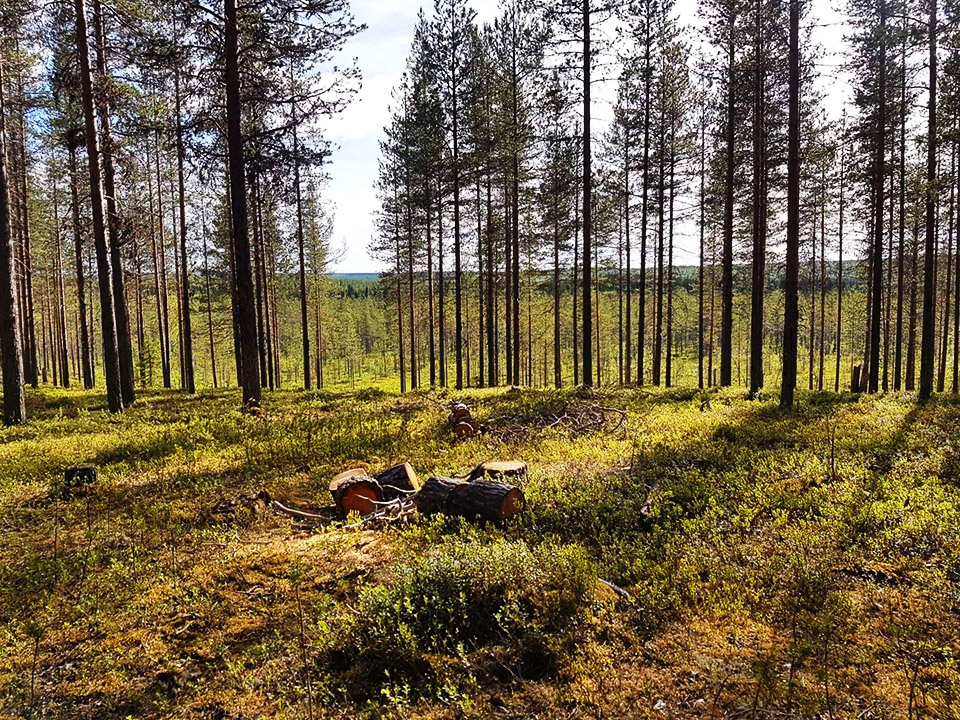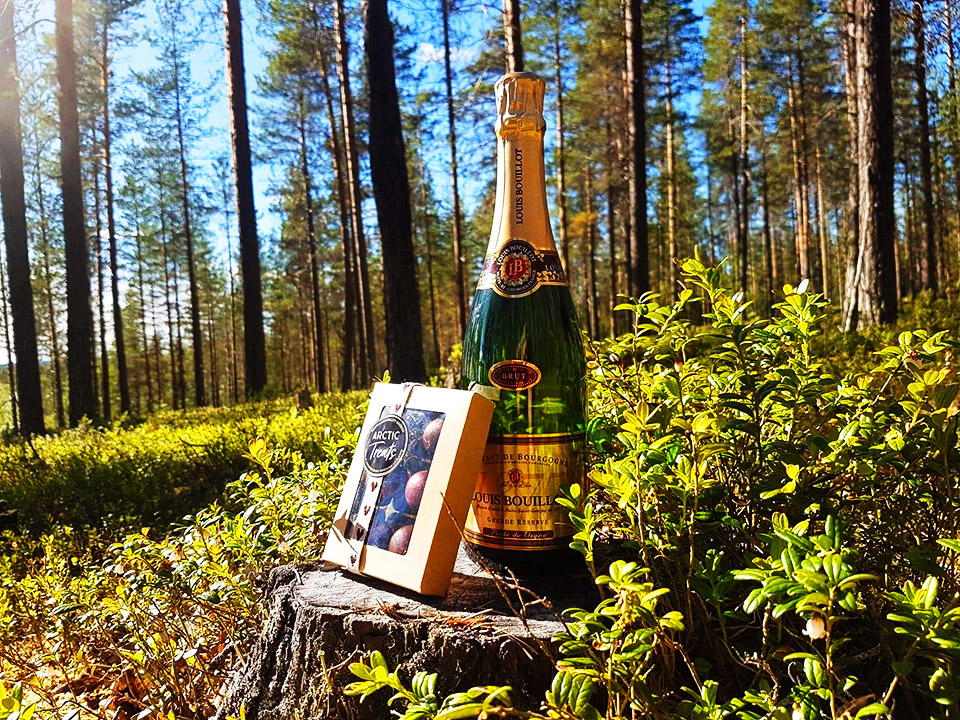 *The Tjers brewery has moved to Sävast (spring 2019) but Frida still runs the Tjers Guesthouse together with her family