It's the end of June, two days after our wedding, and a perfect sunny afternoon when we reach the small town of Kalix. The river that bears the same name as the town is deep cobalt blue and we follow it to the Mansion of Filipsborg, in the outskirts of town. A grand yellow wooden building, beautifully ornamented, reveals itself when we reach the top of the driveway. There is a pleasant breeze coming from the sea that connects with Kalix River not far from where we step out of our car. The owner Örjan Pekka welcomes us and take us inside the magnificent building built in the mid-1800s.
– My children think I'm having a mid-life crisis, buying a place like this, but I've been interested in tourism for quite some time even though I'm a seasoned journalist, says Örjan and laughs.
We are served coffee, tea and the best homemade apple pastry I've ever tasted on the porch that overlooks Kalix River. There is a white gazebo that breaks off the lush green oasis and stairs leading down to the water. All is still. The setting is like a 1800s period drama and I can easily picture a group of women stroll the garden in Victorian dresses and lacy parasols. And the place itself has a rich history dating back to the late 1600s when the original mansion was called Landet (The Land) and was frequented by notable men – Carl Von Linné for example. The mansion has since then had different names, been rebuilt and almost disintegrated before Örjan took over in February 2018.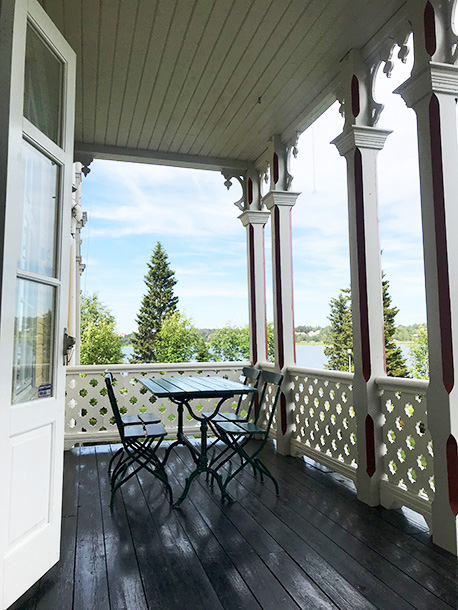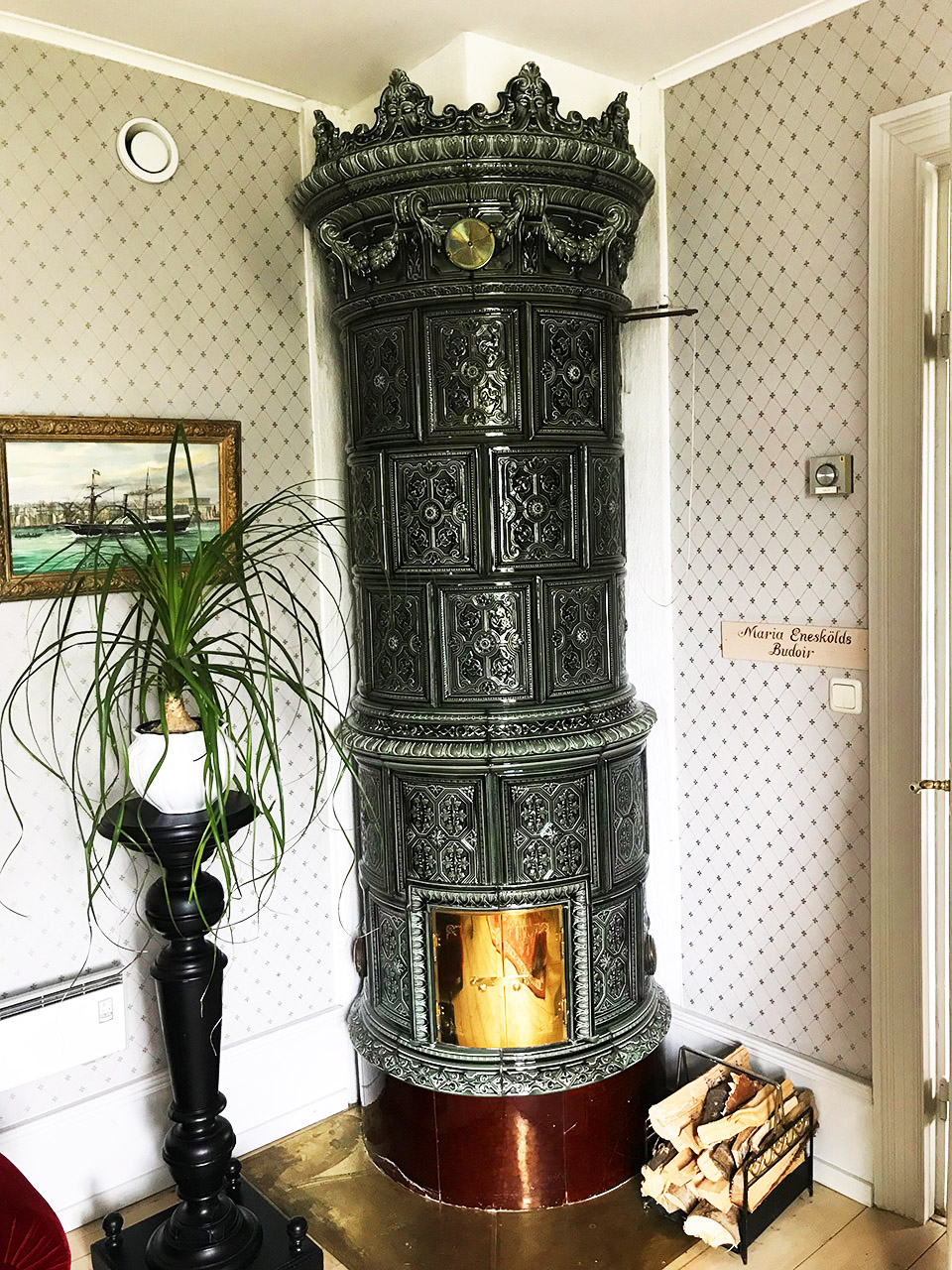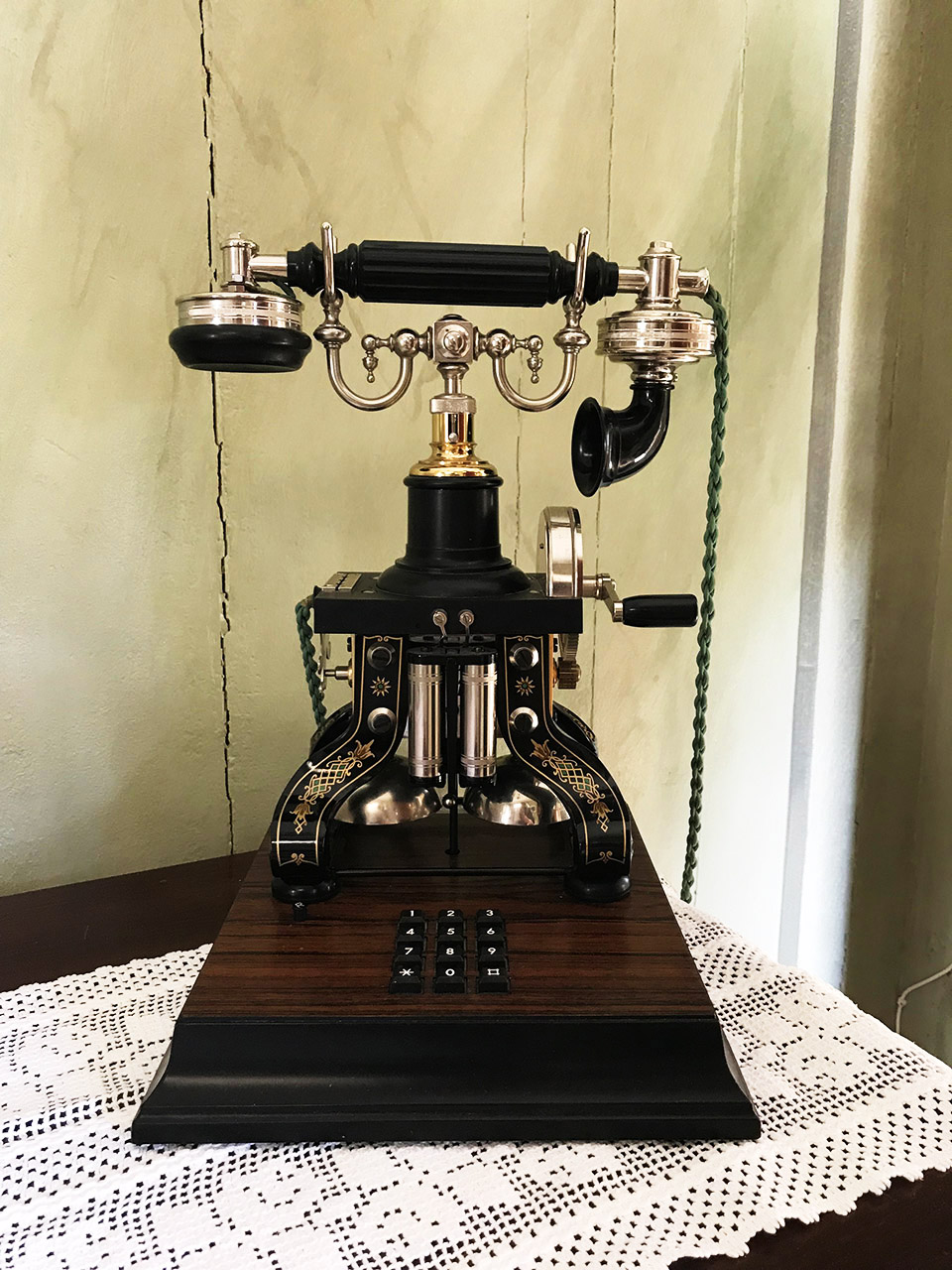 Hopped up on caffeine and excited for our next experience, we walk down to the neighboring Kalix Golf, situated right next to Filipsborg, accompanied by Örjan himself.
– I used to be a golf teacher so I'll whip out my old skills, he says with a smile.
We are both beginners, I've played mini-golf a few times but Johan had never even held a club before. Örjan shows us how to hold the club correctly, how to use our body through the swing and we get to hit some balls out on the field (sorry golfers for any incorrect lingo) from a platform. Johan gets the hang of it pretty quickly and manages to hit the 200m mark – me not so much. I even the score on the green where it's all about the putt and I get my golf balls in the hole almost every time! Two hours later, we find ourselves with sore arms and decide to head back to Filipsborg to freshen up before dinner.
We check in to a room in one of the buildings next to the mansion. It is decorated with period furniture in rococo with a mix of modern textiles and details from IKEA that complements the time era. We have a small balcony with the trees as neighbors and a large, bright bathroom with two(!) showers.
Before dinner, we manage to get a peek in the underground wine cellar, a classic vaulted room filled with top selection vintage wines and perfect for an intimate pre-dinner wine tasting.
Our dinner is served in one of the many rooms inside Filipsborg. The evening sun is pouring in through the high windows and reflects in the silver tray and cutlery. We are served a dangerously good appetizer – cream cheese and chives rolled inside a Parma ham and topped with olive oil. The main course is just as delicious and is a salmon soup with vegetables and a pinch of saffron, topped with Kalix Löjrom – an exclusive bleak roe with the most amazing texture, also called "the red gold of Kalix". We have seconds and are almost too full for dessert. My tea is served from a retro-styled electric kettle that impressively fits into the 1800s-theme and we finish the dinner with a two mini-desserts each, one chocolate mousse and one coffee cheese with cloudberries before heading to bed.