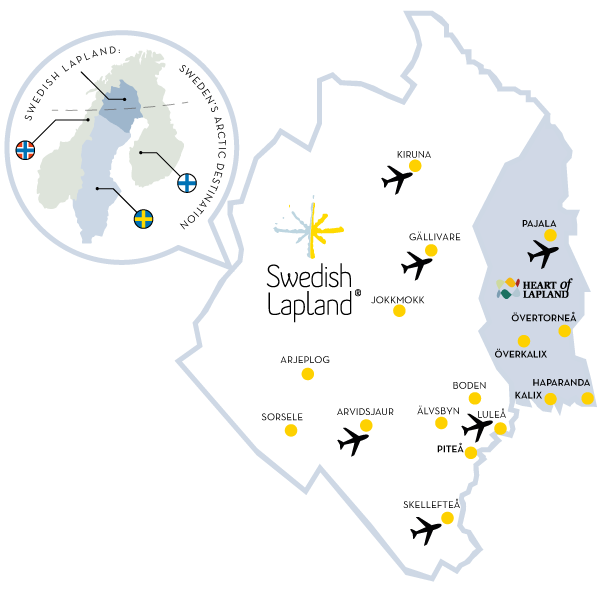 Heart of Lapland is the Eastern part of Swedish Lapland and consists of the five muncipalities Haparanda, Kalix, Pajala, Överkalix and Övertorneå. This is a region so beautifully unspoiled, alongside the ocean, rivers and lakes with mountains, woods and valleys surrounding. You may think you are time-travelling. Yet, we encourage you to take the time to travel through the treasures of Heart of Lapland. It's a gift for you to unbox.
The contrasts are one of the things that makes Heart of Lapland so special. Every season surely has its charm and we have about five to eight seasons. From northern lights and a magic winter wonderland to midnight sun and twice as much summer. From spring-winter's ray of sun to autumn-summer´s many berries and vibrant colours.
This is a place of rich culture and vibrant minority languages: Finnish, Meänkieli and Sami are all spoken alongside Swedish. You can explore our way of life in charming villages with friendly locals or in slow-scale accommodations nearby the last remaining wilderness. This Is a place with fascinating history and people eager to tell it. Authentic personality combined with great service. Heart of Lapland is a thrilling experience for body and mind. A blissful story.
Destinations within Heart of Lapland
Heart of Lapland in brief numbers
85000
salmon is running annually Torne and Kalix river every year
297
kilometers of border river between Sweden and Finland
41
days when the sun never sets
16163
square kilometers is the size of Heart of Lapland
1444
islands in the archipelago
One year in Heart of Lapland
Do you want inspiration on how to spend your time in Heart of Lapland? What to do, where to sleep, what to eat and how to understand the local culture. We have made it easier for you and collected all of our best insider tips, so that you can have the time of your life in Heart of Lapland.
One year in Heart of Lapland - Summer
This is summer in Heart of Lapland.
Ett år i Heart of Lapland - Sommar
Det här är sommar i Heart of Lapland.