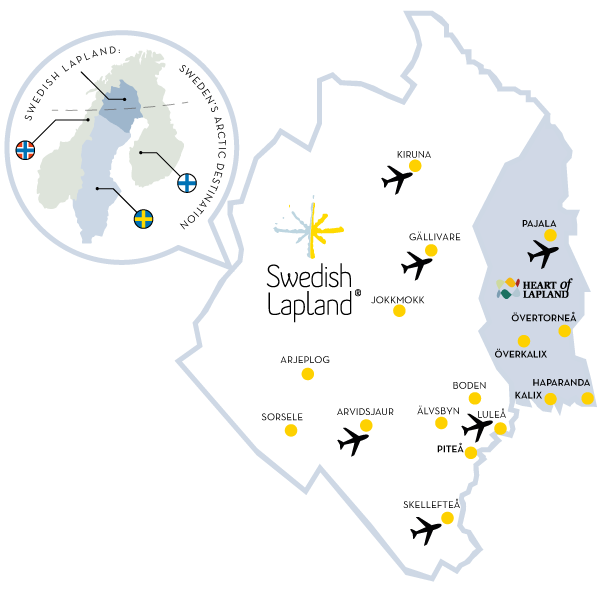 Heart of Lapland is the Eastern part of Swedish Lapland and consists of the five municipalities Haparanda, Kalix, Pajala, Överkalix and Övertorneå. The destination is made up of several river valleys where Torne Valley and Kalix River valley are the prominent ones. This is where minority languages like meänkieli and the Sámi languages are spoken alongside Swedish, Finnish and local river valley dialects. Heart of Lapland is still a hidden gem, with local family owned businesses and small-scale entrepreneurs – all surrounded by woodlands, lakes, rivers and the Europe's northernmost archipelago.
The contrasts are one of the things that makes Heart of Lapland special. Here you'll get a high-end food experience in the middle of the forest. You can enjoy adrenaline-filled activities in nature and spend the night in a relaxing setting. Here you have the option for soft adventures combined with simple wilderness camps. Most importantly – this is where you get the authentic Arctic lifestyle. The hospitality from the locals is warm and straightforward. They won't make a fuss, but they will always offer you some coffee.
This is the borderlands where east and west meet. A fusion of rich cultures like the Sámi and the Torne Valley cultures. The Sámi are the indigenous people in Sápmi, which is spread over northern parts of Norway, Finland, Sweden and the Kola Peninsula. The Sámi culture is filled with longstanding traditions, folklore and modern contrasts. The Torne Valley culture is something you have to experience first-hand – once you get here you'll know.
You can experience up to eight seasons in the destination, all with their own charm and contrast. From northern lights and a magic winter wonderland to midnight sun and twice as much summer. From spring-winter's snow and sunshine to the many berries and vibrant colors during fall.
Welcome to experience Heart of Lapland – beyond the obvious activities.
Destinations within Heart of Lapland
Heart of Lapland in brief numbers
85000
salmon is running annually Torne and Kalix river every year
297
kilometers of border river between Sweden and Finland
41
days when the sun never sets
16163
square kilometers is the size of Heart of Lapland
1444
islands in the archipelago